Tips on Choosing the Right Marble Pendulum Grinding Mill
Marble pendulum grinding mill can process marble into fine powder for a wide range of applications. Marble powder is a heavy calcium powder that mainly composed of calcium stone, which has a high content of calcium, and it is mainly used in construction, interior and exterior wall coatings, paints, chemical raw material filling, weighting, paper making, various sealants and other chemical products. It can also be used for decoration, artificial stone, sanitary ware and other architectural ornaments.
HC vertical pendulum mill for marble powder production
HC vertical pendulum mill is a high-end milling machinery and tools in marble powder production that can ensure the particle size, color, composition, whiteness, efficiency and allied attributes of minerals matches with the industrial requirements. This type of mill is a new generation of environmentally friendly grinding mill independently developed and manufactured by HongCheng. It owns a number of patented technologies and can meet the production requirements of fineness range between 80-400 mesh. The fineness can be controlled and altered as per your demand. High classification efficiency and reliable performance ensure even and fine final powder. The residual air outlet of the mill is equipped with a pulse dust collector, which can achieve 99% efficient dust collection. This mill model is a specific Raymond machine equipment to help increase the production capacity.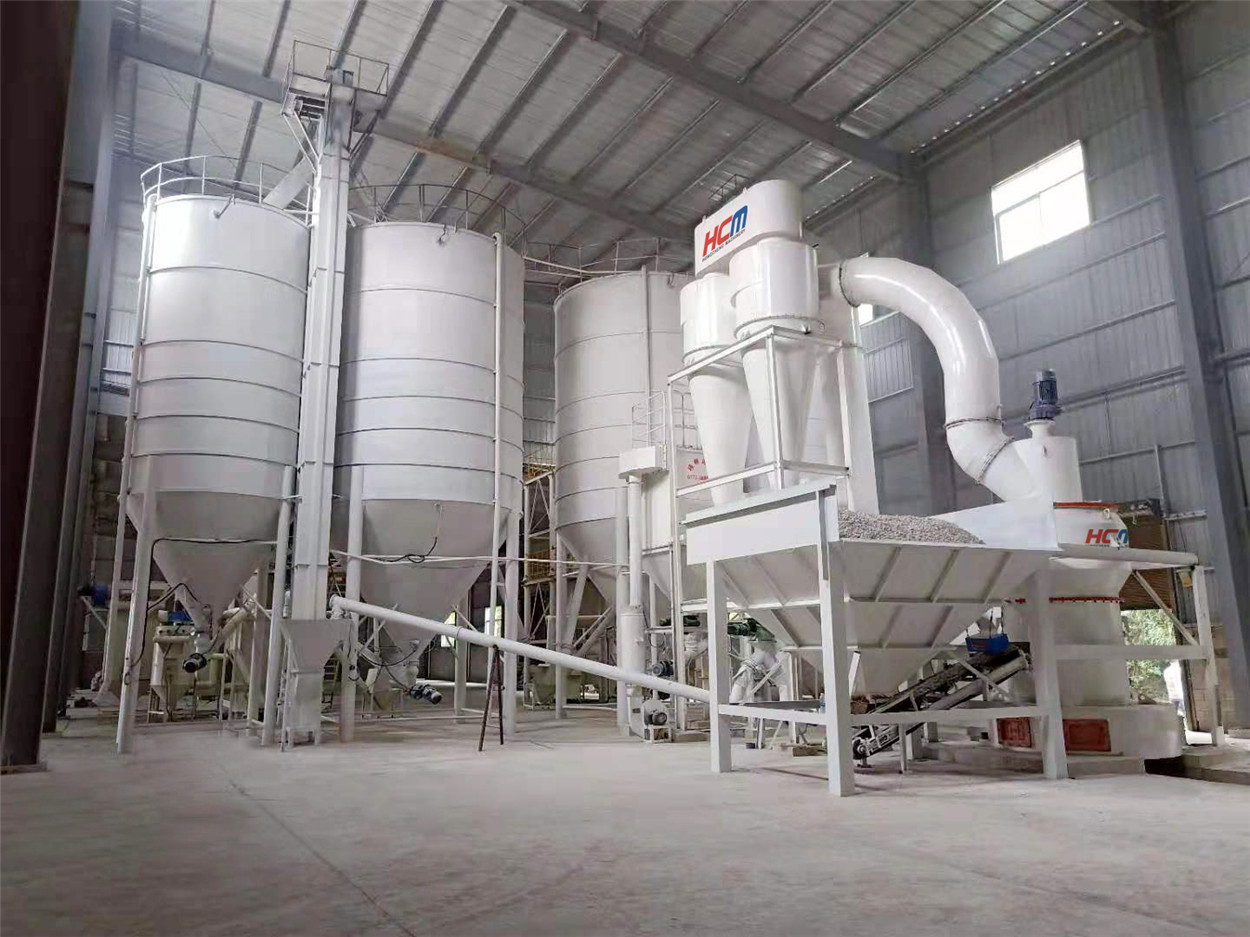 Mill model: HC vertical pendulum mill
Diameter of Grinding Ring: 1000-1700mm
Complete power: 555-1732KW
Production capacity: 3-90t/h
Finished product size: 0.038-0.18mm
Application area: This marble pendulum roller grinding mill is widely used in the fields of paper making, coating, plastic, rubber, ink, pigment, building materials, medicine, food and so on.
Applicable materials: It has high production and efficient grinding capacity for processing various nonmetallic mineral materials with Mohs hardness below 7 and humidity within 6%, such as talc, calcite, calcium carbonate, dolomite, potassium feldspar, bentonite , marble, clay, graphite, clay, zircon sand,and etc.
HC Vertical Pendulum Mill Working Principle
This mill working principle including several phrases: crushing, grinding, classifying, and powder collection. The material is crushed into the granularity that meets the specifications by the jaw crusher, and the material enters the main machine cavity for grinding. The grinding and grinding are achieved due to the grinding of the roller. The ground powder is blown by the airflow to the classifier above the main unit for sieving. The coarse and fine powder will fall into the main unit for regrind, and the powder that meets the specifications will flow into the cyclone collector with the wind, and be discharged through the powder outlet pipe after being collected as the finished product.
Reputable Marble Grinding Mill Manufacturer
Guilin Hongcheng provides customized marble grinding mill solutions including model selection, training, technical service, supplies/accessories, customer support. Our goal is to provide the expected grinding result you've been searching for. Our technical experts are readily available to travel on-site to both customer facilities and as well as interested parties. Each person on our team has a strong technical background and has provided abundant grinding mill solutions across a variety of industries.
---
Post time: Nov-14-2021